1-2 years old: When you start playing with blocks, you can first show them to your baby, then inspire and help your baby to build a tall building or train with bricks. You can also teach your baby to know the shape and color of the blocks.
3-4 years old: the baby has to increase the difficulty of playing with the building blocks. On the one hand, it is necessary to teach the baby the basic methods of building blocks, such as how to keep the stability of the building, how to use the blocks of different shapes, etc.; on the other hand, teach the baby to follow the existing The pattern is built with blocks to develop your baby's ability to observe.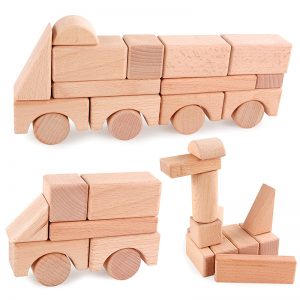 5-6 years old: The baby should pay attention to guiding the baby to use his imagination to build a work according to his own wishes. No matter how naive the work looks to adults, it should be affirmed and encouraged to cultivate the purpose and creativity of the baby to do things.
In addition to being able to form a variety of objects, building blocks are a good tool for your baby to learn mathematics. It can help the baby to understand the various geometric shapes and their relationship, and also allow the baby to classify and count according to the shape of the building blocks, the length and size of the blocks, and deepen the baby's understanding of the geometric shapes and mathematical concepts.